Key2Control
SaaS solution provides demonstrable internal control over business processes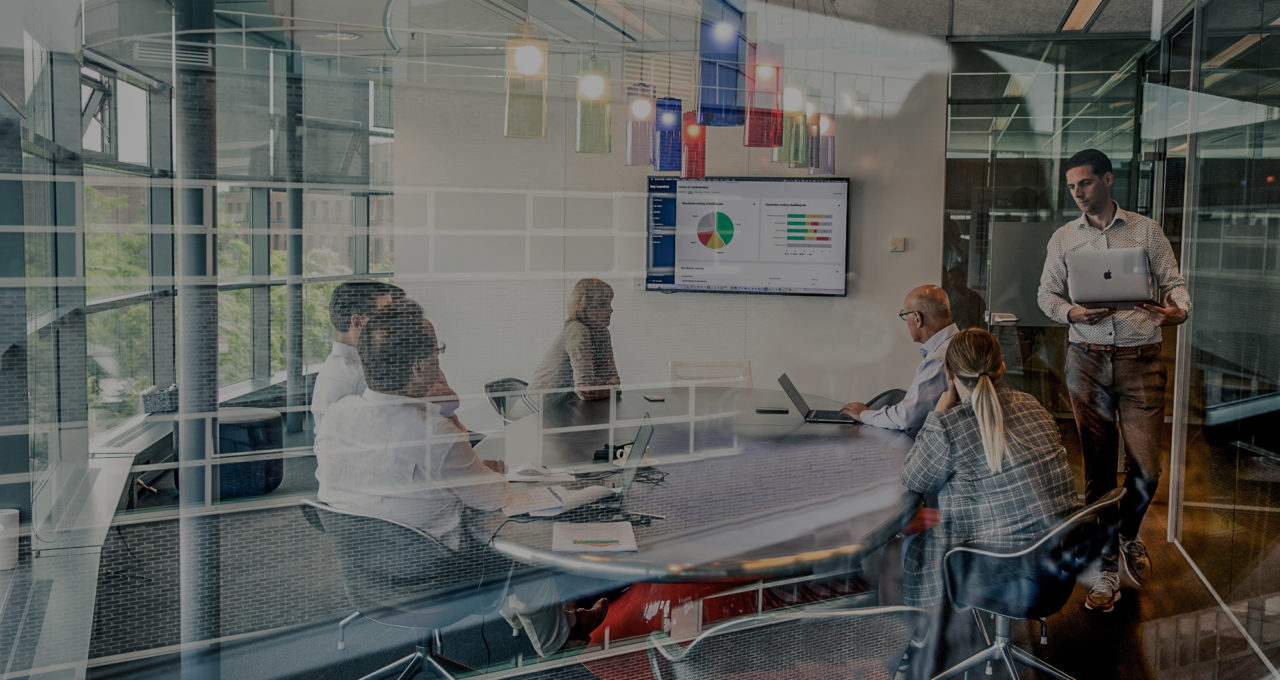 Software that truly ties in with users' perception of the world: with this goal in mind, PAQT and Key2Control have collaborated since 2017 on a SaaS solution that helps the government and organizations with issues related to the internal control of business processes. PAQT's technical knowledge and Key2Control's subject-matter expertise make for a perfect match. 
Online SaaS-application
Real-time collaboration with several users

 

Qualitative and quantitative monitoring and reporting

 

Clear dashboards and reports

 

Very user-friendly

 
Technical specifications
Database encryption at the organizational level

 

Completely private environment with Multi-entity

 

Fast and pleasant interactive interface thanks to Vue.js

 

Robust, modular foundation thanks to open-source application framework Laravel

 
Impact & use
Used by more than 60 large organizations (including municipalities and hospitals) on a daily basis

 

More than 1,200 users daily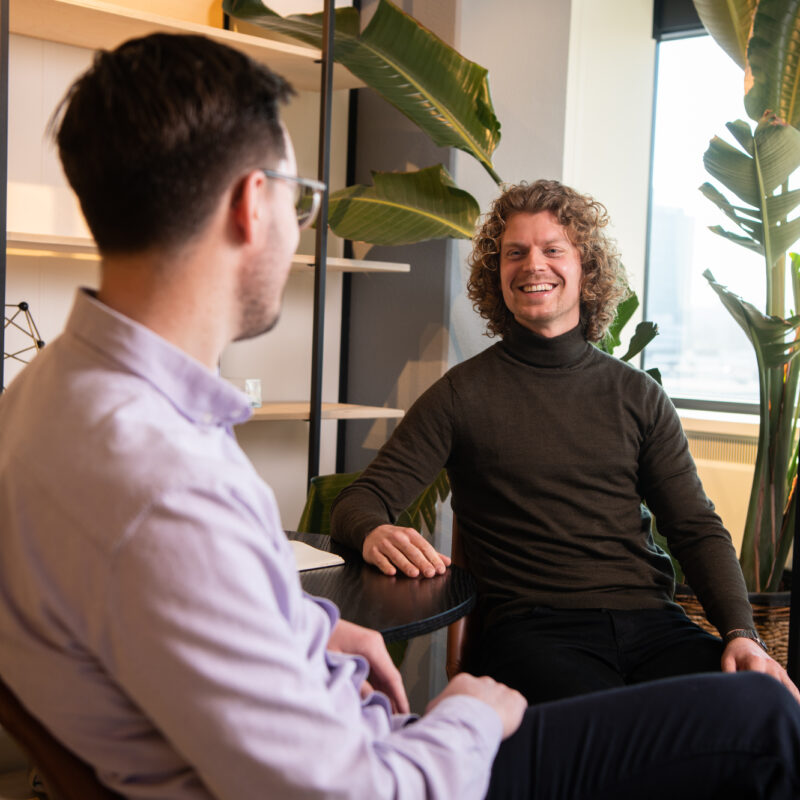 Not a customer, but a partner
Key2Control is highly familiar with the needs in the market. PAQT provides the technical knowledge and clout required to translate these into technical software. Together, we form one team with a common goal: a stable, well-functioning SaaS solution that helps the target group. 
What Key2Control says about PAQT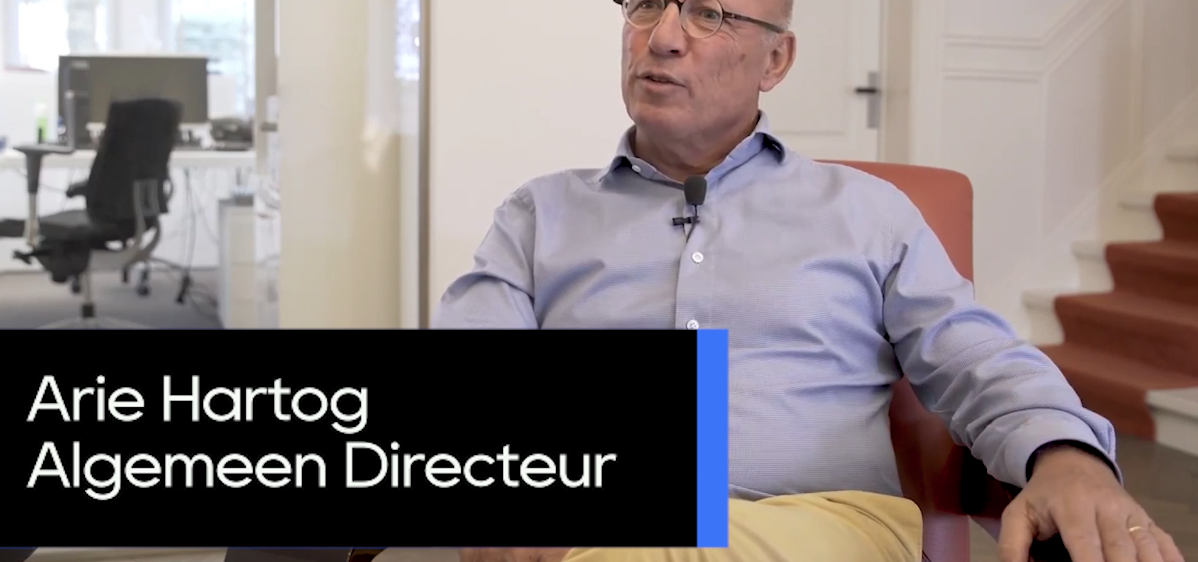 The starting point
Large companies, organizations, and governments have to account more and more for their actions in the context of increasingly complex laws and regulations — for example, in the field of security and privacy. Examples include standards that fall under NEN/ISO or privacy legislation such as the GDPR. To comply with these, all employees in an organization should work in the same way. That is why it's crucial to adopt a standardized approach and document activities correctly. 
Key2Control helps companies and institutions in these respects using an advanced Software as a Service application, developed in collaboration with PAQT. The software offers Key2Control's customers the tools to be demonstrably in control of their processes. The SaaS solution provides an unambiguous structure, records steps taken using a standardized working method, and offers the possibility to set up, manage, monitor, and improve the internal control of nearly every business process. This way, companies are always prepared for audits and certifications.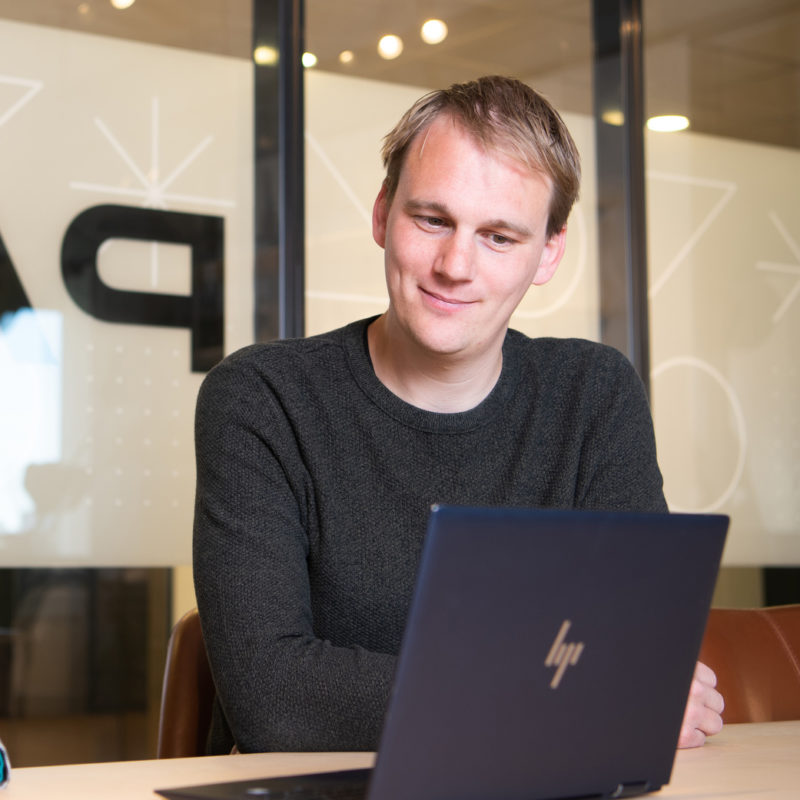 Close collaboration
What started with a single request for a code review of the existing software evolved into a close collaboration between PAQT and Key2Control. The platform has since been completely renewed, and it's been expanded with new functionalities that meet the demands of Key2Control's target group. 
The application
The basic application consists of a PDCA module (in accordance with the Deming cycle: Plan, Do, Check, Act), which is the beating heart of Key2Control's solution. This dashboard is the first thing users see. It gives them an at-a-glance overview of the business processes that are controlled via frameworks of standards, the measures in place to control and improve these processes, and the people involved in them. It provides an overview and further insights, as it enables them to get more information about current tasks and lead times. Furthermore, various reports can be exported from the dashboard. Using a task module, users can easily see what's on their to-do list, what they're currently working on, and what they've worked on before. The software has a very simple design so the user can work with it in a truly intuitive way.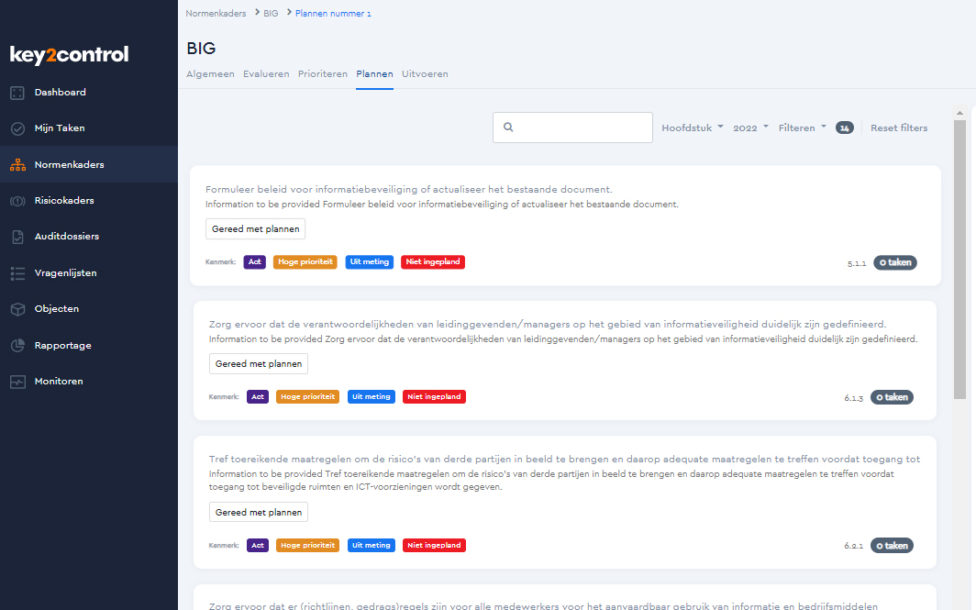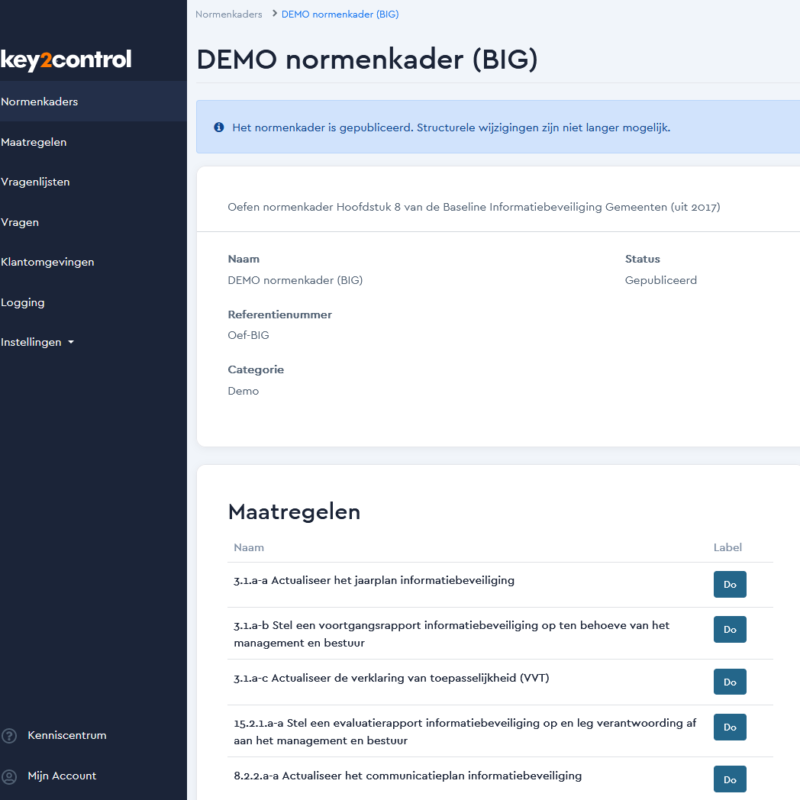 Additional modules 
Besides the basic application, there are additional modules that help the user improve their business processes. The audit (management) module aims to support the specific internal control and contains a full audit file, including work programs in which findings and recommendations are recorded. The module automatically generates an audit plan and audit report and supports internal accountability based on a coherent picture, interlinking risks and standards in the audit file. 
With the risk management module, threats can be recorded for each risk area at the operational, tactical, and strategic level. These are linked to standards. This creates a risk profile with mitigating measures.  
All modules have been designed in such a way that they facilitate each professional in having a demonstrable grip on the business process they are responsible for. Well-organized dashboards form the basis for this — and they are enriched with specialized reporting functions per module. 
Further development
Key2Control continues to develop the application in collaboration with PAQT. Bart Suers says, "In the coming years, the need for internal control of business processes will only increase in public, semi-public, and private organizations because of the digital transformation. So ultimately, the extent to which an organization is able to organize its internal control will also affect its right to exist." 
"For Key2Control, this means we should continue to respond to these increasing forms of accountability for all facets. When it comes to the accountability for business operations based on the legitimacy of information security, privacy protection, and information management, the accountability level will be raised. New forms of accountability for legitimacy, such as financial and fiscal accountability for legitimacy, will encourage further standardization of processes. Furthermore, spatial/legal legitimacy will be introduced — and it will always be based on our desire to depict this complexity in the software in the simplest possible way so we can tie in with the end user's perception of the world."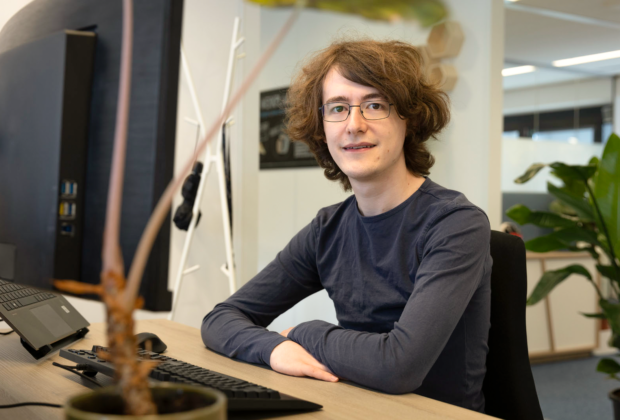 Development process
Key2Control's target group is closely involved during the development process. For new modules within the SaaS solution, we clearly map out the needs and translate them into a visual mock-up,  which we use to test whether the goal is achieved and to further sharpen the ideas in consultation with the target group. This intermediate step in the development process ensures an even better end product.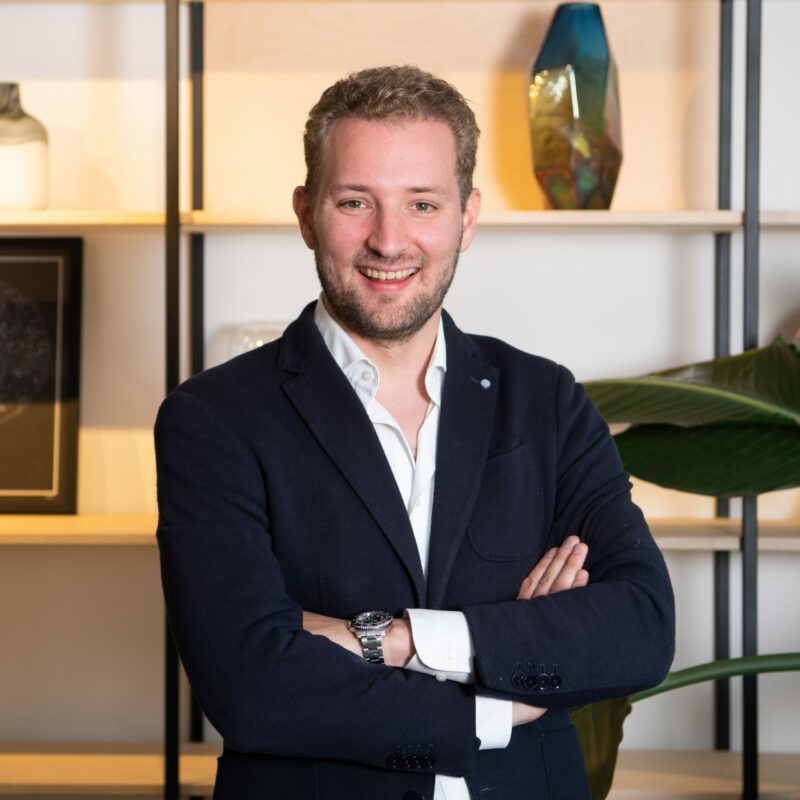 Ready for the next step?
Are you interested in creating custom software for your organization? Call Maurits to schedule a free consultation. An expert in the field of SaaS and digital transformation, he's happy to set you in the right direction in no time. Call Maurits or schedule an appointment online now.
Make an appointment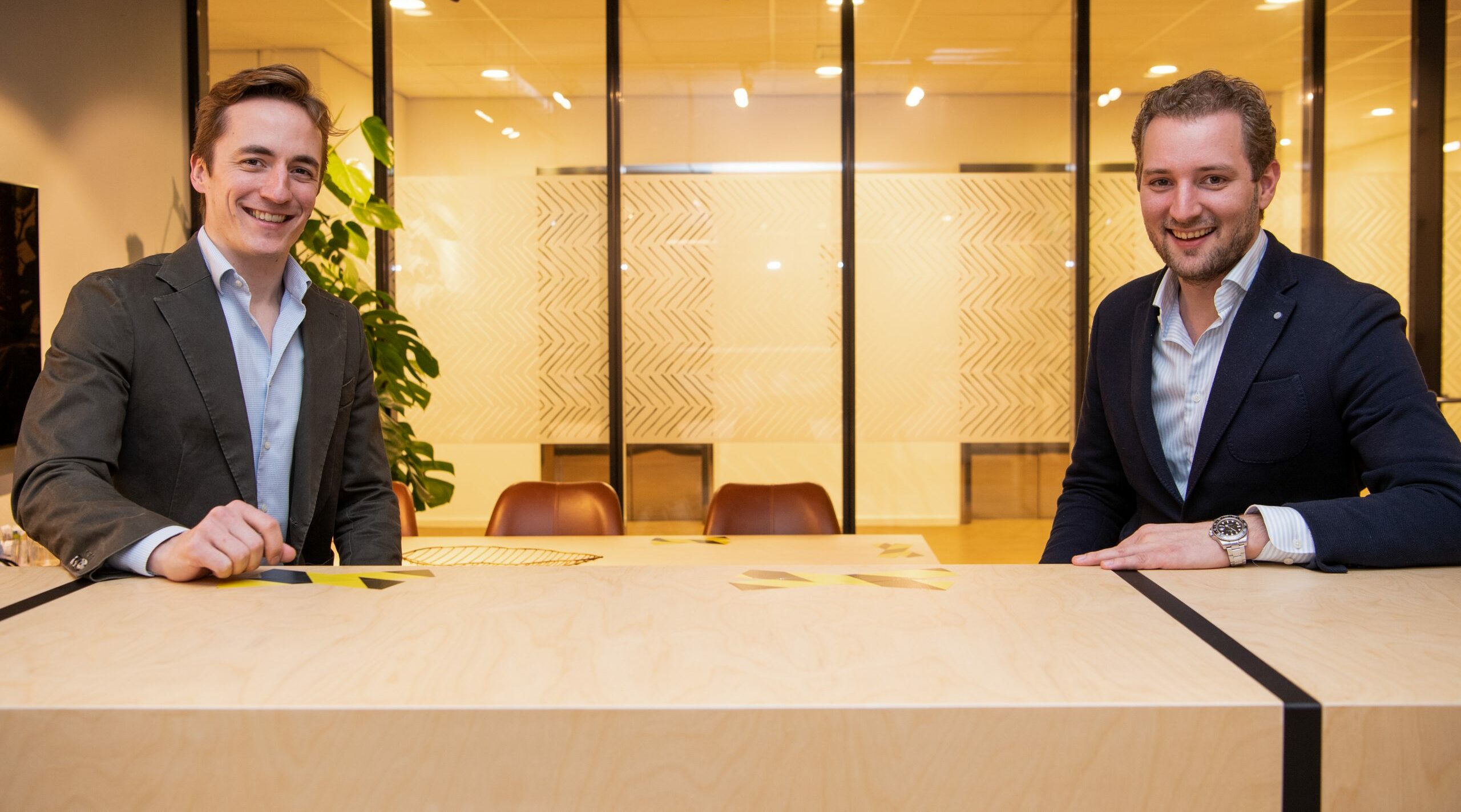 Convinced we can help you?
Tell us about your ambition. We are happy to contribute ideas.